Display of 12
Roll the 9 dice – every time you spell T-E-N you put the T aside for 10 points each*.  If you cannot roll any T-E-N, can you at least spell O-N-E? If
so, you take the O as 1 point and stay in the game. Roll the remaining dice. Put the T's aside for every ten spelled. If you spell O-N-E, you can put the O aside for 1 point* but its best to do that ONLY if you have decided not to roll again and your points are safe. However, if you risk a roll and cannot spell T-E-N or O-N-E, you lose all of your accumulated points from this round. Play continues in turn with players rolling, spelling,
putting T and O's aside for points, and then risking additional rolls or losses. The first to reach 200 points wins! When you put the T and O dice aside for points, put them face up so you know what is ten points and what is one point.
Safety Warnings
WARNING - Choking Hazard - Small Parts Not suitable for children under 3 years. Small parts may be swallowed.
Shop here :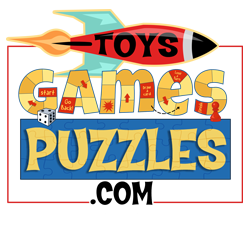 the risk factor - single
Please click the TGP icon to be transferred to our shopping partner ToysGamesPuzzles.com,
Thank you