1 triangular-shaped wooden playing board, 3 score keepers, 45 colored markers of varying shapes, 9 Quirks, game bag, instructions.
Each player chooses a score keeper and places it at the beginning of their score track. The color of score keeper matched the color of marker each player uses.
Toss the 45 markers and the 9 quirks in the bag.In turn, draw a marker from the bag. Your job is to create triangles of any size, and on any level, on the board. Every marker must be played. Occasionally you will draw a Quirk from the bag, changing your color, your strategy, and your sanity. The game ends when all pieces have been played.

Safety Warnings
WARNING - Choking Hazard - Small Parts Not suitable for children under 3 years. Small parts may be swallowed.
Shop here :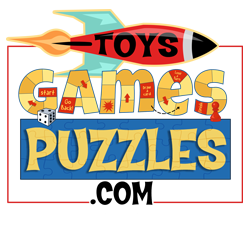 Please click the TGP icon to be transferred to our shopping partner ToysGamesPuzzles.com,
Thank you