56 hexagonal bakelite tiles, instruction booklet, nylon game bag
After deciding what color to play, players select 6 tiles from the bag without looking, lining them face up in front of them. The first player lays down a tile in the middle of the playing area. On your marks, get set, Gobble! All at the same time, players add frantically to the game so that they make the longest line of their own color.
But when 'Gobble' spaces, or 3-sided spaces are created, they must be filled immediately before adding more tiles to the game.
When all tiles are used up, the player with the longest continuous line of their color wins.

Safety Warnings
WARNING - Choking Hazard - Small Parts Not suitable for children under 3 years. Small parts may be swallowed.
Shop here :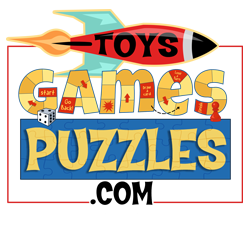 Please click the TGP icon to be transferred to our shopping partner ToysGamesPuzzles.com,
Thank you